We know you love the game from the reviews you've left us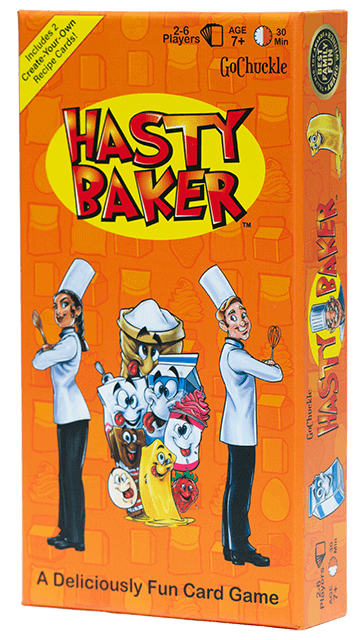 Easy to learn a blast to play!
Super fun game. I played with my kids who are 5 and 6, they love this game. It's easy to learn and there are sneaky cards that add twists and turns. The more people playing the more the fun but we often just play 2 or 3 people and my daughter tends to beat us even though I show no mercy. My niece is 5 and she loves the game so much she asked to borrow it for a day. She had it for a month before we got it back. And all she wants to do is play it at my house. Lol she will be getting her own copy for Xmas this year!
Jenny
Fun for the whole family, young and old
I was looking for a game for the family that kids and adults would enjoy that's not like all the other games. This game delivers. We love this game. Even their grandparents like playing this with the kids. I highly recommend this game to families looking for something else fun to play. Fun for all ages.
Christy Snyder
Fun game and easy to learn
My kids are 9, 6, and 4 and we all play almost daily. They grasped the concept on the first game and now we are all hooked. I like it because it requires critical thinking and is not solely based on chance. It is also fun for the kids since it uses everyday items and baking instead of mythical themes and new names to memorize. Well done! We will be enjoying this a long time.
youlikadasauce
This game is addicting
This game is so fun! The kiddos learned it fast and it's entertaining to play as a family. My 4 year old son and 5 year old nephew are addicted to this game. It's a nice change from them wanting to play on electronics all day.
Rachel Madson
Excellent Game for All Ages!
Hasty Baker is an excellent game for all age levels! There are several rules that are simple to understand and explain to younger children. There are levels of complexity to the game that really add to the game play value. There are several cards that you can play to sabotage other players, and that element really makes things more interesting!
The objectives are clear. The illustrations are really nice. The quality of the cards and packaging are excellent.
This detail is quite silly to mention, pbut I enjoy how the recipe cards are slightly larger than the ingredient cards so that you do not mix them together (they remain separate during game play)! This is so clever and I don't know why more games don't do this.
Wally
Your whole family will love this game!
Even though it was made by a small new company I decided to back this game on Kickstarter just because it looked like it was fun and I have many people in my family who enjoy baking. Well the game didn't disappoint! I've had fun playing and everyone I've introduced it to has enjoyed it also. Cards are high quality. The art is fun and the action cards add a lot of strategy to the game. Very easy to learn! Should be able to read rules and start playing in less than 10 minutes!
Eric Cokenour
Family game night favorite!
Perfect kids game that won't bore the grown ups! This has become a family game night favorite! From my 5yr old up, we LOVE this game! Cute graphics, a little luck, a little strategy, a little sabotage. What not to love?
Debra Tooker
Good game for kids and adults
This is a good game to play with kids. They pick it up pretty quickly. It isn't so simple that it is totally boring for adults either, which is nice. Actually, kind of fun to play with only adults if you're looking to socialize as it is easy enough to play and converse at the same time, even if you are enjoying some libations while you do it. We use it as a night cap at the end of playing more complex tabletop games. I backed the Kickstarter and was pleased with how quickly they got it to market, unlike some projects that seem to drag on forever. And the quality of the game is good. Some card games (especially from Kickstarter projects) end up using real cheap stock to save money. They seem to have invested in the quality stuff.
Leif Espelund
Fun!
I bought this game as a Christmas gift. We played later that day and had a great time. Pretty easy to learn. Gather ingredients to complete your recipe card. But watch out – your ingredients could become spoiled or stolen. Your pastry could burn. My niece's boyfriend enjoyed the recipe sabotage so much that he asked to borrow the game for his family's gathering.
T Thien
Family fun night
My husband and our 9 year old love this game. It was easy to learn and very addictive. We play it almost every night. It doesn't take to long to play but long enough for a good time.
Kelsey
Turn off the talking heads and laugh with your family!
Great family game! The first time we played my 3 boys (8,11,13) were howling with laughter. We are 2 weeks in and they still enjoy it. Right now I think we all need less politics and more laughter. If your reading reviews because your on the fence quit wasting your time and order it!
L Bastian
Fun for all ages
I bought it for my grandson decided to keep it for myself, he played it with cousins, aunts and uncles and they enjoyed it so well I bought another to give to him for Christmas
Kim Taylor
Fun for everyone!
We love this game! Fun for the whole family – our 6 and 9 year old love it along with the adults. It's on our new birthday present rotation!
L. Bachelor
Super fun family game!
Our 9 and 6.5 year old boys love this game! It's a super cute family game and easy to learn. It's healthy competition for them.
GLADfam88
Super fun game for all ages!
This game is too fun. We played it with our adult children on New Year's Eve. They loved it. Since then, my husband and I have played several times. Nice balance of strategy and good old fashioned luck!
Elizabeth
Surpasses "Uno" as king of the hill in our house
This has replaced the old family favorite "uno" as my 8 year olds favorite game. With just enough strategy to keep everyone in the family happy and engaged. Bravo! Would definitely recommend to families with kids 7+ age group.
Amazon Customer
Our family LOVES this game
My daughter (8yo) got this for my wife for her birthday
We all (myself, wife, 8yo, and 15yo) all love it
Travis Jones
Having fun playing this with hubby
This is fun and easy to learn, we have played a few times now. The cards are really cute and the objective is fairly easy, but you can modify it to make it harder. It's fun for a relaxing game to play at lunch when your husband has a short break
Rachel
Great game for the whole family
This is fun and easy to learn, we have played a few times now. The cards are really cute and the objective is fairly easy, but you can modify it to make it harder. It's fun for a relaxing game to play at lunch when your husband has a short break
King Philip
We love Hasty Baker!
I bought this for my 11 year old and we love this game. It's easy to learn, relatively quick to play and there are fun cards like "all new hand", "spoil ingredient", "take 2 cards from another player", "wild ingredients" and so much more! I highly recommend.
Charla Greene
Purchase on Amazon
Hasty Baker is available on Amazon, including with quick and easy Prime shipping!
Purchase on Walmart
Hasty Baker is available in the Walmart online marketplace, with
free shipping!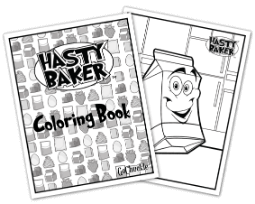 Would you like our free Hasty Baker coloring book?
Download our free printable color book