A deliciously fun card game for the entire family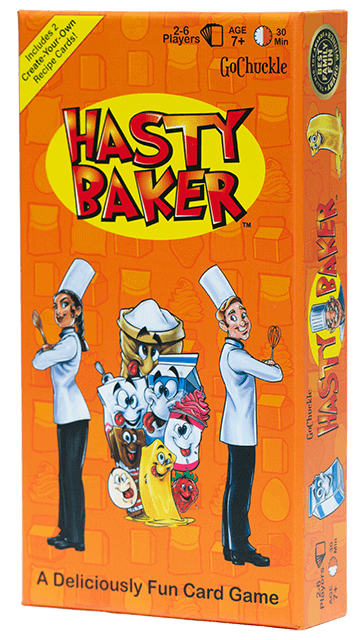 Are you ready for the race of your life!?
Race against your friends and family to complete recipes by collecting cards containing the ingredients for a variety of delicious desserts. Be warned, ingredients aren't the only cards in the deck! Other players may try to sabotage you with cards like Steal Ingredient and Spoil Ingredients, making this an awesome competition!
Ingredient and Recipe Cards
Fall in love with our characters Butter, Flour, Eggs and more as these "ingredients" magically come to life. Our recipe and Ingredient cards are designed with bright, vivid and fun characters and icons, making it easy to follow at any age.
Don't be fooled, Hasty Baker is not just for kids. Take the opportunity to play a Strategy card to slow other players down or get lucky and pull a card that helps you jump ahead. You may just find the adults love the game so much – they keep playing even after the kids go to bed!
Cat's may get a kick out of playing with empty boxes but we're thinking you want more. Hasty Baker's box includes:
110 Ingredient and Recipe Cards
24 Strategy Cards
Instruction Sheet
Why families love the Hasty Baker Card Game!
A family-friendly game for any age, Hasty Baker keeps everyone entertained with fun characters and images. We challenge you to take a look at Sugar or Butter and not smile.
Kids too young to read? They too will enjoy the game and learn to read as they match the icons and characters. There's enough strategy and sabotage for kids 6-12, teens, adults, and even grandparents to play without anyone getting bored. If anyone is yawning, it's because they've stayed up so late playing! We warn you, people say the game is addictive.
Having been recognized by Autism Live, Hasty Baker is a great social activity for the neurotypical as well as those on the spectrum. It's perfect for the classroom, playdate, whole family game night, or even adult game night!
No one likes games that are difficult to figure out..no problem here. Simply gameplay with clear instructions makes picking up the game easy. Kids will have fun learning strategy, math, reading, spelling, and critical thinking without realizing it. Designed with bright, vivid and fun ingredient cards, kids of all ages will easily identify the cards they need. Even your youngest can gather the flour, eggs, butter, sugar and other ingredients to create their favorite dessert before other bakers finish theirs.
We are so proud to have been recognized. Hasty Baker won the 2020 Tillywig Best Family Fun award, Creative Child's Game of the Year three years in a row (2020, 2021 and 2022), and was awarded the 2021 Autism Live Best Card/Board Game. Hasty Baker was also endorsed by Food Network's Kids Baking Championship Season 9 winner, Keaton Ashton!
What people are saying about Hasty Baker
We share this info but be sure to note that many Hasty Baker fans tell us their kids as young as four and five find the game fun to play! Some even adjust the play so that each game is completed in a shorter timeframe.
Everything you need to know
Everything you need to know about Hasty Baker
Shuffle the blue deck and the red deck separately.
If you'd like, you can use the box to hold the draw and discard piles of the blue deck. We designed the box to give this option to players like a tidy table.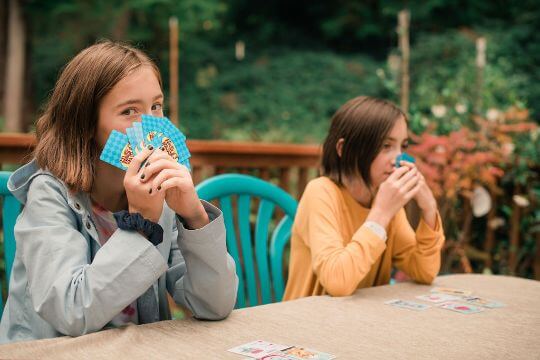 Every player gets 7 blue cards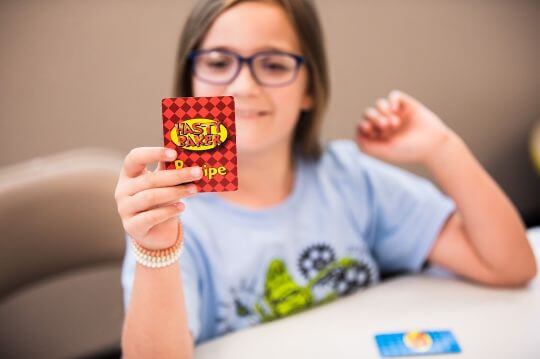 Every Turn, You get 2 Actions
Choose from these options: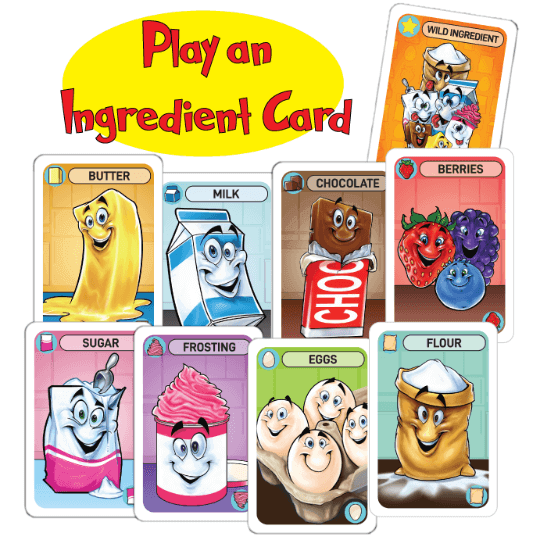 Place an ingredient in front of you to work toward completing the recipe!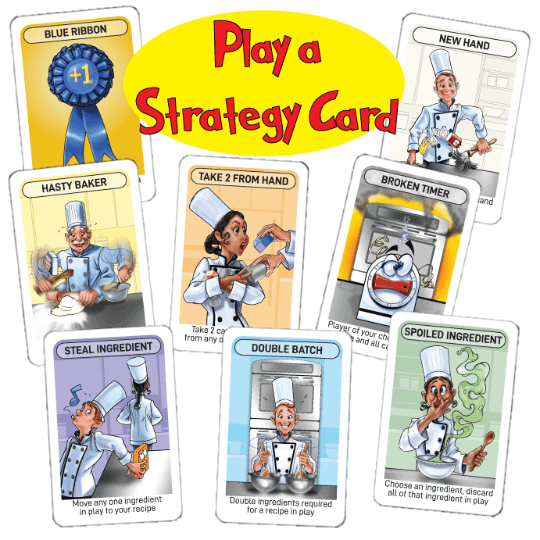 Play one of the many strategy cards to slow other players or speed yourself up!
OUT WITH THE OLD, IN WITH THE NEW
Replace a card in hopes of getting a better one!
Each completed recipe is worth a point. You can get extra points by:
Playing a Blue Ribbon card on your recipe before you complete it. A recipe can have just 1 Blue Ribbon so don't try to get too greedy!
Completing a Double Batch. If you or someone else plays a Double Batch card on your recipe, you have to get double the ingredients to complete it, BUT you also get an extra point when you do. Hmm, is it worth the risk?
Both of these cards get put with the completed recipes to represent the additional point.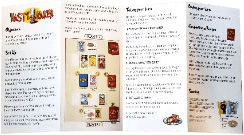 Read the Full Rules
Download a PDF of the rule sheet so you can read the rules in detail.
Have a question not answered in the rules?
We would love to hear questions you have so we can make the rules as clear as possible!
Email us at [email protected]
Frequently Asked Questions
Purchase on Amazon
Hasty Baker is available on Amazon, including with quick and easy Prime shipping!
Purchase on Walmart
Hasty Baker is available in the Walmart online marketplace, with
free shipping!
Download your Free Hasty Baker Placemat
Keep your cards organized by printing one for each player.
Clothing Merch
Most of our quality clothing merch is provided through Amazon's print-on-demand service.
Clothing Merch
Most of our quality clothing merch is provided through Amazon's print-on-demand service.
Purchase on Etsy
For a variety of other items, we sell through Etsy. Check out the
aprons
,
bibs
, and
mugs
!
Hasty Baker has been mentioned on television, magazines, blogs and more!
Learn more about us in the press