At GoChuckle, we're all about Family + Fun!
Our mission is simple: we want to provide families with fun and engaging games that get them off their phones, televisions and gaming stations and having fun together with family and friends.
GoChuckle was founded by two brothers, Marty and Brent Mickelson, who grew up with an emphasis on family time and some friendly competition.
From an early age, Marty, Brent and their dad, a Boy Scouts of America Scout Master, would spend hours and days, hiking, camping and being together. Some of their favorite memories were about their competition to see who could start a campfire faster! (pocket lint may have helped the winner) And, of course, making and eating s'mores!
Well, fast forward a few years…Marty and Brent each took on the role of dad with families of their own, Marty with three boys and Brent with two girls and a boy. And the importance of family time is still at the core of their lives, and the inspiration for founding GoChuckle and its inaugural product: Hasty Baker!
Inspired by the Food Network's Kids Baking Championship, one of Brent and his daughter Kaylee's favorite shows, Brent thought it would be fun if there was a game like this they could play at home. After hours and hours of unsuccessfully searching for something like this, Brent decided to simply try to make it!
Brent created the original format and rules for this game and reached out to his brother, Marty, to create the illustrations. Flattered and excited about the idea, Marty realized that in order for this to be successful, they needed to do this right, and hire an actual artist to help create the characters and bring this game to life.
And that was it…they were committed to making this happen. Together they built on the theme, with some important goals in mind:
Brent and Marty painstakingly took the time to go through everything – trying to ensure that every little detail was accounted for.
Initially taking their ideas and putting them to playing cards with Sharpie markers, Hasty Baker was born and went through multiple iterations. 
As the game came to life, Marty sons (Cameron, Tyler and Hayden) and Brent's kids (Emma, Dallin and Kaylee) were instrumental in the process – from character development to gameplay.
Brent and Marty spent hours hammering out the details with the mindset of creating a game that grandma and grandpa would like as much as their young grandkids.
The adults weren't forgotten…Marty even took the game to THEM to get their reaction!

In September of 2019, the Hasty Baker Card Game was ready for the world!
Marty really wanted to launch it right…and had the idea to launch Hasty Baker on Kickstarter. A huge success, beating their goal, the first orders were hand-delivered locally in time for Christmas!
This allowed them to meet their customers, and Brent was even asked to autograph the games. He felt like a celebrity!
Not long after Hasty Baker was in the hands of families, it started winning awards. Creative Child Magazine awarded Hasty Baker Game of the Year three years in a row (2020, 2021 and 2022)! Tillwig awarded it the Best Family Fun award in 2020, and in 2021, Hasty Baker won the 2021 Autism Live Best Card / Board Game. And, a huge (and fun) accomplishment, Hasty Baker was also endorsed by Food Network's Kids Baking Championship Season 9 winner, Keaton Ashton! (Remember – this is how it all began!)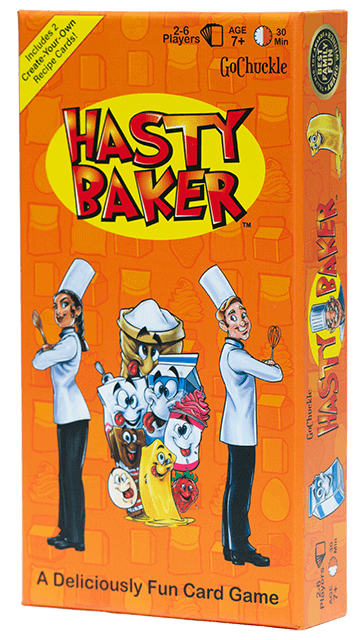 Ready to Play Hasty Baker?
Hop on over to Amazon and let the fun begin!
Exciting things are happening in the GoChuckle creative laboratory…Marty and Brent, and their entire tribe, are hard at work, creating the next GoChuckle game!
It's guaranteed to have an engaging theme and story, as well as card play that keeps all ages wanting to pick up the deck!
Want to get the scoop when the next GoChuckle game is available?